Catholic Picture Books for August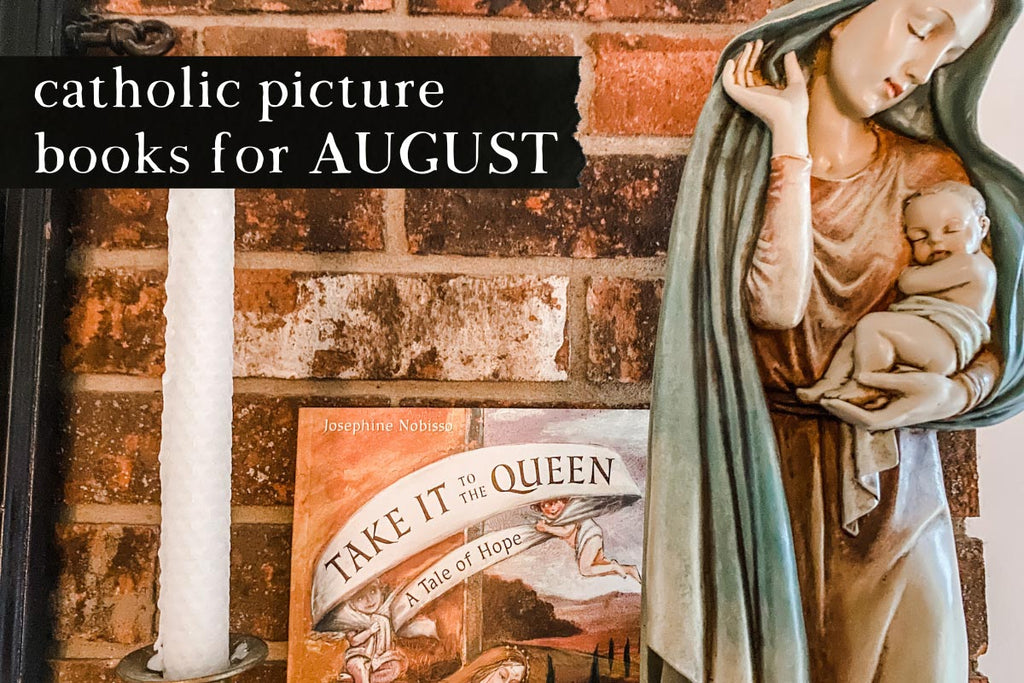 A new school year is getting closer with each passing day and it's time to start finding some good picture books to get us going! After long days of school or as a part of our Morning Time, we love sitting down with an engaging, beautiful picture book the entire family can enjoy. We have assembled a list of some of our favorite Catholic picture books for August to share with our families.
Catholic Picture Books for August
The month of August is dedicated to the Immaculate Heart of Mary. There are also many wonderful feast days, including Saint John Vianney, Saint Helen, and Saint Clare!
Mary, the Mother of Jesus by Tomie dePaola
This book details fifteen different stories about our Most Holy Mother's life, from her childhood to her wondrous crowning in Heaven.
John Vianney: Saint for Holy Orders by Barbara Yoffie
Born during the French Revolution when the Catholic religion was illegal, John Vianney resolved to become a priest. Once ordained he was sent to the troubled town of Ars, where he helped the people of that town regain their lost faith.
Saint Clare and Her Cat by Dessi Jackson
While traveling to San Damiano, Grandma Nonna tell the story of Saint Clare to her grandson, Antonio.
The Queen and the Cross by Cornelia Bilinsky
Join Saint Helen on her search for the Cross! The Queen and the Cross follows Saint Helen on her quest and her eventual finding of the Cross in Jerusalem.
A Garden for Mary by Neena Gaynor
With beautiful watercolors and vivid blooms, this book will delight everyone who reads it!
The Life of Mary by Inos Biffi
This book follows Mary throughout the Gospel, detailing the events of the Visitation to Pentecost.
Take it to the Queen by Josephine Nobisso
Written by beloved children's author Josephine Nobisso, this book depicts an allegorical representation of Mary. It shows us how we can always take whatever is troubling us to our beloved Queen and Mother!
Our Lady's Wardrobe by Anthony DeStefano
Despite growing up poor, Mary has loads of beautiful clothing in Heaven! In Our Lady's Wardrobe, we see Mary's clothing from her most famous apparitions.
Our Lady's Picture Book by Anthony DeStefano
Written by talented author Anthony DeStefano and a sequel to Our Lady's Wardrobe, Our Lady's Picture Book shows us Mary's personal picture book, which explains Our Lady's different titles, such as Lady of the Sea, Immaculate Heart of Mary, and Our Lady of the Rosary!
Mary by Brian Wildsmith
Brian Wildsmith's book follows Mary's life, from her birth to her glorious Assumption.
John Mary Vianney: The Holy Cure of Ars by Sophie De Mullenheim 
Saint John Vianney was a holy man and a loving priest. He would spend hours in the confessional, even up to seventeen hours! Saint John Vianney was a priest in the aftermath of the French Revolution and the rise of Napoleon. He gave strength to the French people during trying times.  
What are your favorite Catholic picture books for August? Drop them in the comments below!