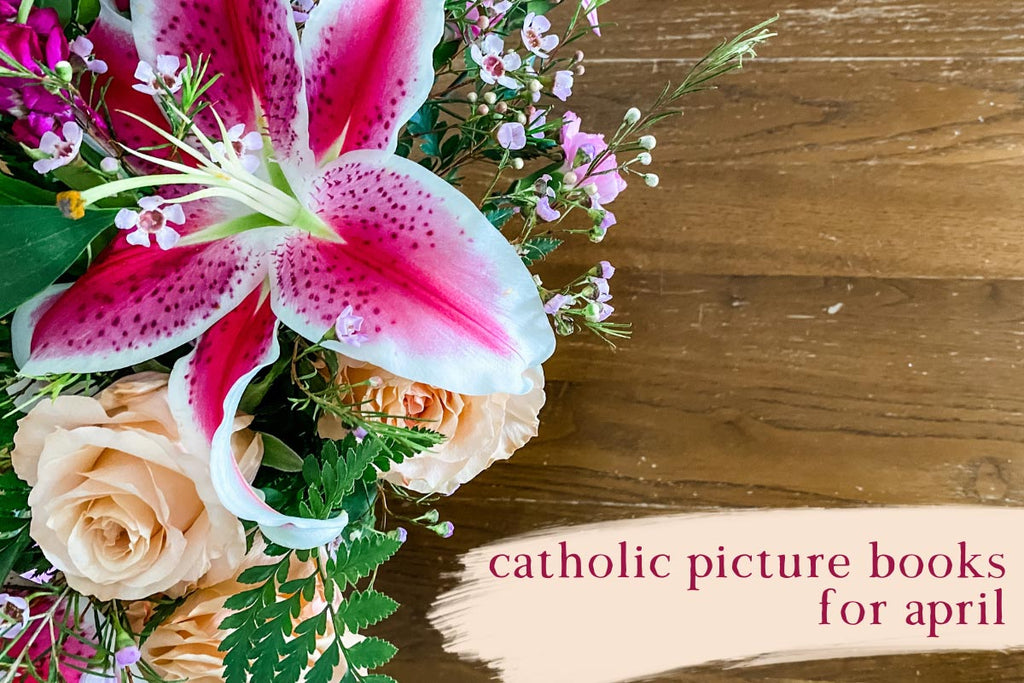 April showers bring May flowers! With Easter and warm weather just around the corner, 'spring' into spring with these Catholic picture books for April! This month celebrates Saints such as Saint Bernadette and Saint George.
Catholic Picture Books for April
This I Know by Clay Anderson
Based on the beloved children's song Jesus Loves Me, this book has playful rhymes and colorful illustrations that your children will love.
Saint Bernadette and the Miracle of Lourdes by Demi
Packed full of beautiful illustrations, this book serves as an excellent introduction to the life of Saint Bernadette.
'Twas the Morning of Easter by Glenys Nellist
"'Twas the morning of Easter, before the sun rose, Two guards on a hillside were trying to doze. Now Jesus had died, only three days before, A huge stone was in place, sealed over the door." Written with a catchy rhythm, 'Twas the Morning of Easter is the perfect Easter basket gift.
God Gave Us Easter by Lisa Tawn Bergren
This board book is a sweet read while still providing thoughtful insight. Follow Papa Bear and Little Bear as they discuss Easter.
Saint George and the Dragon by Margaret Hodges
Saint George and the Dragon is a Caldecott Medal Winner and on top of that an altogether beautiful read.
Cloud of Witnesses: A Child's First Book of Saints by Katie Warner
With simple, short quotes from each saint and an illustration to accompany it, Cloud of Witnesses is the perfect book for introducing saints to littles.
Queen Esther by Tomie dePaola
This book tells of a Jewish queen who not only loved her people and the Lord but stood by her Faith in times of distress.
Pascual and the Kitchen Angels by Tomie dePaola
Pascual, patron saint of kitchens, would not cook. But he trusted in the Lord and when he prayed, the angels cooked.
That Grand Easter Day! by Jill Roman Lord
That Grand Easter Day! takes us to that day Mary came to the tomb and Jesus was nowhere to be seen.
Seven Clues: A Catholic Treasure Hunt by Scott Hahn and Maura Roan McKeegan
Written by renowned author Scott Hahn and children's author Maura McKeegan, Seven Clues follows three children on their treasure hunt that aids in deepening their Catholic Faith. A great read during Sacraments season!
Bernadette: The Little Girl from Lourdes by Sophie Maraval-Hutin 
Born in France, Bernadette was a young girl who had a miraculous encounter with Our Lady of Lourdes. 
Saint George and the Dragon by Jim Forest 
Saint George was one of the first martyrs of the early Church. He is usually regarded as almost a mythical man. Jim Forest writes of the legend of Saint George, a brave Christian soldier who staunchly defends the princess and the villagers, while also addressing the symbolism behind the legend. 
What are YOUR favorite picture books for the Easter season? Drop in the comments! 
Continue reading