Catholic Picture Books for January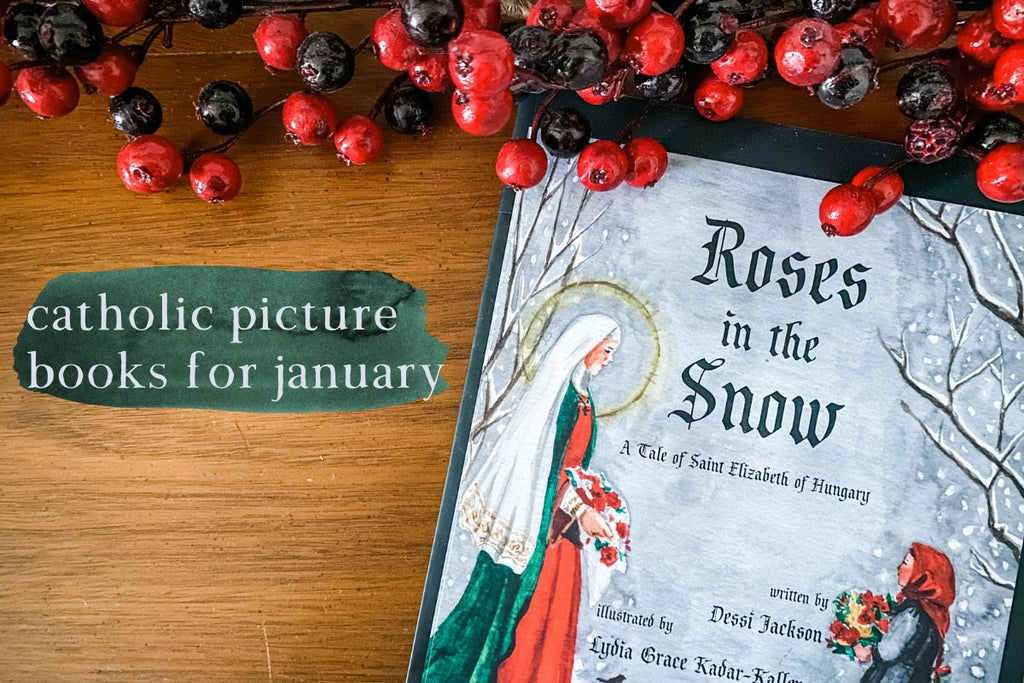 Settling in for the next few months of cold weather is no joke! During those long, cold days, there is nothing better than a warm blanket, fuzzy socks, and some Catholic picture books for January!
Catholic Picture Books for January
Elizabeth Ann Seton: Mother for Many by Barbara Yoffie
Elizabeth Ann Seton was a teacher, mother of seven, and the first US native-born citizen to be canonized. Follow Elizabeth Ann Seton in this story on her journey to sainthood.
St. John Bosco and His Big Gray Dog by Hayley Medeiros
Saint John Bosco was a beloved man, but not everyone was so kind to him. When he was in danger, a special guardian sent by God protected him from harm.
The Legend of Old Befana by Tomie dePaola
The Legend of Old Befana is an Italian retelling of Christmas written by Tomie dePaola.
Baptized in the Water: Becoming a Member of God's Family by Glenys Nellist
On January 9th we celebrate the Baptism of Our Lord! Read this book for a touching story on the beauty of baptism.
A Saint a Day by Meredith Hinds
The perfect go-to for all things saints, this book will have your kids looking forward to the Saint of the Day!
The Life of Mary Inos Biffi
In The Life of Mary, Biffi walks us through the life of Mary accompanied by beautiful illustrations that bring each event to life.
Saint John Neumann: Missionary to Immigrants by Laura Brown
Saint John Neumann traveled from England to America, became bishop of Philadelphia, and built 30 churches. Join him on his journey to sainthood!
Take it to the Queen by Josephine Nobisso
Take it to the Queen depicts an allegorical representation of Mary. No matter the problem, we can always take it to our Queen!
Roses in the Snow: A Tale of Saint Elizabeth of Hungary by Dessi Jackson
Roses in the Snow follows a little girl named Elizabeth who loves nothing more than to hear stories about her saintly namesake.
Pascual and the Kitchen Angels by Tomie dePaola
Pascual is a cook...who doesn't know how to cook. So, what does he do? Who can help him? Find out in Pascual and the Kitchen Angels! 
Mary, the Mother of Jesus by Tomie DePaola
This book depicts the life of Mary in this touching picture book, filled with beautiful illustrations and written by beloved children's author Tomie DePaola. 
The Last Straw by Fredrick Thury 
The Last Straw is a beautiful retelling of the Christmas story from a camel's point of view. 
Saint Anthony the Great by John Chryssavgis 
Saint Anthony was a man with many questions. He moved into the desert, listened to the silence, and found God. 
And don't forget, it's still the Christmas season in January! The picture books you read in December will be great for January, too!
 What are your favorite Catholic Picture books for January? Drop them in the comments below!