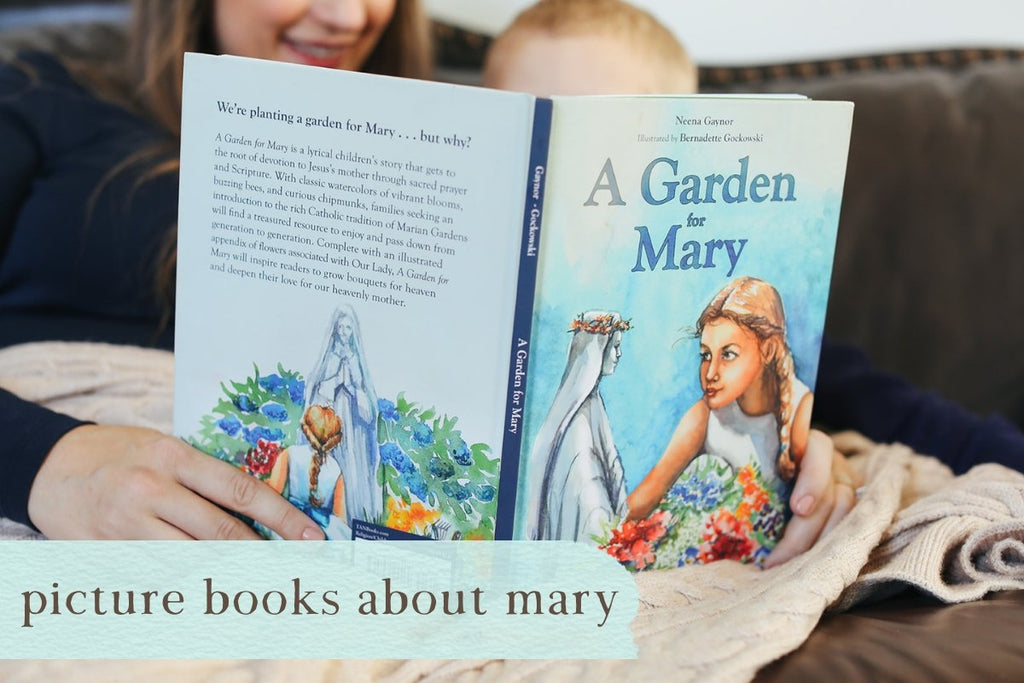 The Virgin Mary is loved by all, young and old alike! Each of these picture books is all about our Lady; it will delight your children. Check out below for our Picture Books about Mary!
Mary, the Mother of Jesus by Tomie dePaola
This book contains fifteen stories featuring our Lady, from childhood to her glorious Assumption into Heaven.
Take It to the Queen: A Tale of Hope by Josephine Nobisso 
Take It to the Queen is a beautiful picture book, rich in allegorical references; we truly can take anything to our Mother in Heaven.
Mary by Brian Wildsmith
Written by Brian Wildsmith, this book chronicles the life of Our Lady from her Immaculate Conception to her glorious Assumption.
The Life of Mary by Inos Biffi
In The Life of Mary, Biffi walks us through the life of Mary accompanied by gorgeous illustrations that bring each event to life.
A Garden for Mary by Neena Gaynor
Both adults and children will delight in this discovery of various botanicals that represent the mysteries of Mary's life and how she points us to Jesus.
Our Lady's Wardrobe by Anthony DeStefano
To help us learn about Our Lady, DeStefano walks us through her different "outfits" as she has lived and appeared throughout the centuries. This book is perfect for the month in which we celebrate the feast of Our Lady of Fatima!
The Lady in the Blue Cloak by Eric A. Kimmel
A collection of stories set in Texas, this book follows the mysterious 'blue lady'.
Our Lady of Guadalupe by Francisco Serrano
Our Lady of Guadalupe follows the beloved story of Juan Diego and details his deep love for our Heavenly Mother.
Mary, Mother of Jesus by Marlyn Monge
This is a great option if you want a good Marian board book for your little ones!