What is a Mother's Morning Basket?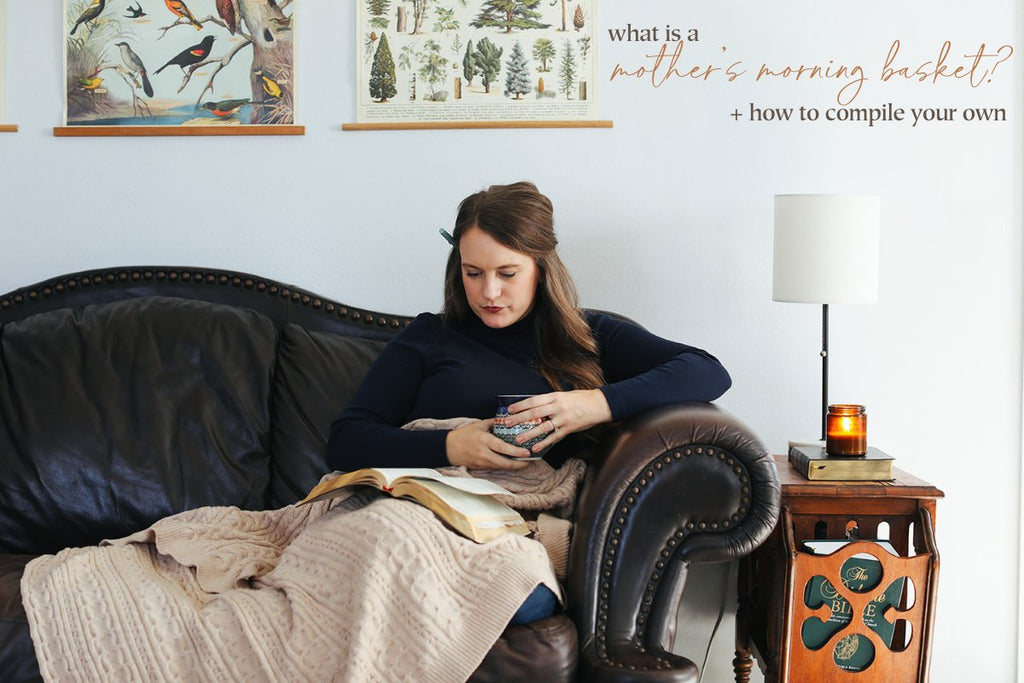 What is a Morning Basket?

The term "morning basket" has been tossed around in homeschool circles for a couple of decades now. It has spread like wildfire (for good reason) and is not only reserved for homeschooling families. 

Because of its increased popularity, it has become somewhat of an enigma.  Assembling a morning basket can feel overwhelming because what if I don't do it right?

I'm here to release you from that pressure... There is no singular "right" way.
When it comes to creating a morning basket for your children, the main goal is to spread a feast of truth, beauty, and goodness. 

If you're already implementing The Daily Feast, then your morning basket is already, like, 85% filled. 

Our morning basket usually consists of the elements of The Daily Feast plus some poetry and a few picture books. 

While you get to make the rules about your morning basket, it's helpful to have a few loose principles to build upon:
A morning basket incorporates beauty.

 

This may include prayer, Scripture, hymns, Saint bios, poetry, folk songs, fairy tales, and so on.
You don't have to do it all every day.

 

You can choose different books based on the needs of that day. 
It doesn't have to be a literal basket.

 

You don't have to store your stuff in a basket for it to be a morning basket. Simply compile your resources in a place that is easily accessible to you and where you most often gather together.
It can be done at any time of the day.

 

Don't be beholden by the term "morning"! A morning basket can be done at any time of the day. The best time to do it is when you actually do it.
What is a MOTHER'S Morning Basket?
Same idea, but for you. 
A mother's morning basket is meant to fill her soul and mind with truth, beauty, and goodness. 

For many years, my mother's morning basket has been an anchor in my day. It affords me a moment to tend to my own soul and interests so that I can be poured out for my family—not by my own power, but His.
The same loose principles of a morning basket for your kids apply to a morning basket for yourself. The focus is prayer and beauty, you don't have to "do it all" every single day, you don't have to use a literal basket, and you can do it at any time of the day*. 

Your mother's morning basket will likely shift according to seasons (both literal and metaphorical). You may be able to enjoy it before the kids wake each day or amongst their happy interruptions. 
*I prefer the morning because I desperately need communion with Him first thing. A few months ago, some friends and I discussed our desire to include a "mother's night basket" in addition to our morning baskets. I have been doing this, and it has been a peaceful way to end my days! My night basket is much more abbreviated and includes night prayer, an examen, poetry (sometimes), and a novel. Also, this is not yet as firm a habit as my morning basket because many nights I fall into bed face-down and expired.
The Elements of a Morning Basket 
So what should we include in our mother's morning baskets?! This is the fun part! Again, you make the rules. But I'm happy to offer some suggestions based on what has been particularly helpful to me over the years.
Remember, you can include any, all, or none of these. And you don't have to partake in what you include every day. This is meant to bless you, not burden you!
Prayer 
This isn't necessarily tangible, but it's the cornerstone of my morning basket.
Each morning, I sleepily crawl into the lap of the Father, ask the Son to "give me a drink", and voice my dependency upon the Holy Spirit. I wake up like a child.  
Additionally, many moms use this as a time to pray their rosary or other devotional prayers.
Bible/Daily Readings 
God's Word has proven to be a lamp for my feet and a light for my path. I am a beggar before the Lord, and He continuously feeds me with His Word and His Body in the Eucharist.
Reading Sacred Scripture—most often via the daily readings for Holy Mass—is the top priority of my morning basket.
When it comes to Bibles, I recommend the NRSVCE translation. I use this one. If you prefer a journaling Bible, I like this one.
Journal 
I like to keep some sort of paper journal in my morning basket to jot down prayers or verses. 
Prayer Books 
Do you have a prayer book you love? Keep it tucked in your morning basket and refer to it as needed or prompted. 
For example, the Pieta prayer book is magnificent.
Devotional 
Is there a devotional you're praying through, particularly during Advent or Lent? Are you in the middle of a consecration? These are great additions to the morning basket! 
Spiritual Reading 
My morning basket also includes whatever spiritual book I'm currently reading. You can see some of my favorites here.
Poetry 
Poetry is not currently a part of my morning basket, but what a lovely way to rouse to the day! I have this collection of nature poems that I read with my kids, but my girlfriends love the daily version and the night version for themselves!
Inspiration 
Under this category falls anything lovely but not necessarily religious.
Think food or design magazines, coffee table books, cookbooks, art collections, nature journals, homemaking resources, etc.
What lifts your heart and inspires you for the tasks you are about to undertake? What inspires you to live a life worthy of the call you have received?
Tuck these in your morning basket and take delight!
Non-Fiction Reading 
Finally, I include any non-fiction (but not spiritual) reading I'm tending to at the time. Books about homeschooling, homemaking, homesteading, health, historical figures, parenting, marriage, work, relationships, etc. fall into this category.
It bears repeating: not all of this is to be done every single day! We would likely be neglecting the duties of our vocation if we spent three hours in prayer and reading every single morning. Don't be afraid to just start! Nothing is a failure when offered to the Lord in humility, trust, and love!
Setting Time + Space 
Once you have determined when would be a great and realistic time for your morning basket, put it on your actual schedule in your actual planner. It makes a difference! 
Then, set the space. Choose where the contents of your morning basket will reside. Choose where you will sit. 
How can you make this space more conducive to prayer?
Can you drape a blanket across the chair to invite you into rest with Christ? Can you hang a crucifix, icon, or other holy image nearby so you can contemplate it during your prayer? 
Consider obtaining a candle that is just reserved for your morning basket time. I like these clean ones and these Catholic ones (use code ITD15 for 15% off).
The night before, set out a favorite mug (perhaps one from Into the Deep... perhaps this is a hint?) to fill with rejuvenating coffee or steeping tea before you begin. 
I keep these highlighters and a good pen on hand for emphasizing and taking notes.
My Current Mother's Morning Basket 
Curious about what's in my mother's morning basket right now? Here's my lineup:
You can see them all here, too.
The Final Thought 
The demands of our vocation are blessed and many, and the Lord does not ask us to do them apart from His grace. It is worthwhile to dwell with Him in the mornings. He is waiting to meet us in prayer. He longs to fill us with His love and delight, even in seasons of dryness. 
Let us, then, make a point to come to Him. Let us not rely on our own limited strength but on His endless power. 
Let us give our families the gift of a mother filled with beauty, wonder, and the Holy Spirit. 
Let us make time for what fills us up so we can be poured out another day. 
 I'm so eager to know what you think about a mother's morning basket. Totally lame? Overwhelming? Thrilling? And if you already have some version of a Mother's morning basket, I'd love to know what's included in yours!