What We Use for First Communion Prep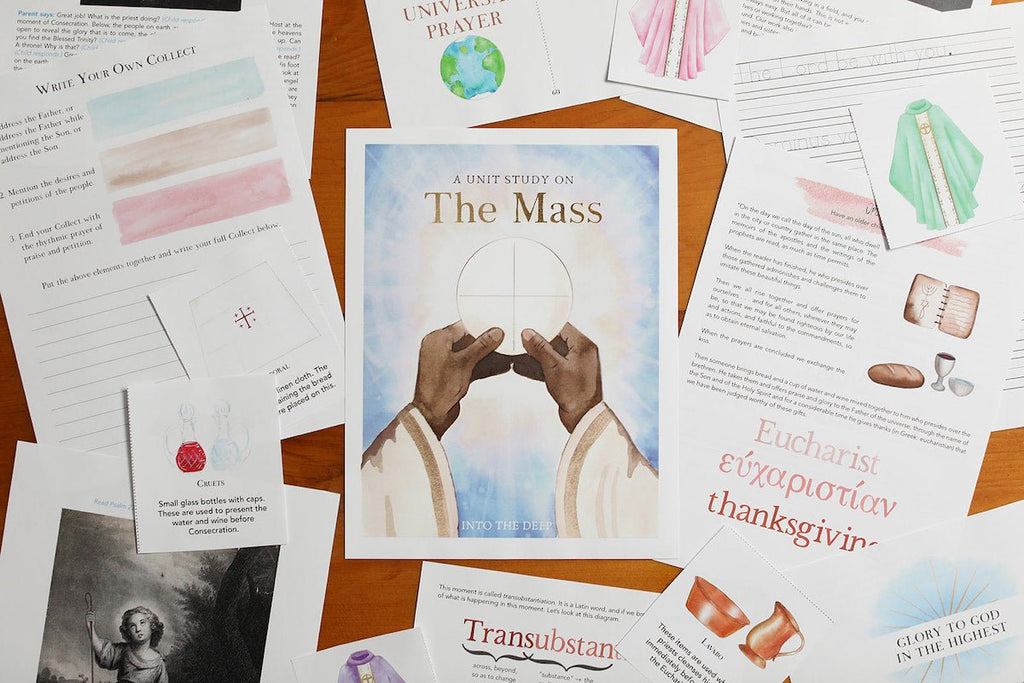 Preparing for First Communion is a beautiful experience for children and parents alike. Many children will receive their first Communions this spring and early summer, so naturally, preparation is on our minds. We want them to have a memorable encounter with the Eucharist. We want to do our part—inasmuch as we can—to prepare them for this intimacy with Jesus.
As you can imagine, our family takes a bit of a different approach to First Communion preparation.
First, our priority is to model devotion to the Eucharist in our personal lives and in our life as a family. Reverence toward the Eucharist at Mass, making the Sign of the Cross when driving by a Catholic Church, attending Eucharistic Adoration, making a spiritual communion on the weekdays, and talking about how the Eucharist has changed our lives is at the top of our preparation list.
When it comes time for them to dive deep into the Eucharist before First Communion, we don't merely rely on the parish to execute the formation. We assemble a profound, realistic stack of resources and walk through them as a family, paying special attention to the questions of the one preparing to receive the Eucharist for the first time.
What We Use for First Communion Prep
Picture books aid visual learning for young communicants. Books on the Mass and/or the Eucharist are a great place to start with kiddos.
 First Communion by Mother Mary Loyola 
While not a picture book, this is a wonderful, classic read. This book is perfect for a deep dive into First Communion, for parents and children alike. I do not stress about reading the book in its entirety; rather, I choose a few chapters I want to be sure to get to (according to that particular child).
Jesus Speaks to Me about the Mass by Angela M. Burrin
With colorful illustrations, Jesus speaks to the children about connecting the links between His life and the Mass.
I Went to Mass, What did I See? by Katie Warner
Written by Katie Warner, I Went to Mass follows a young boy as he joyfully observes all there is to see in Mass.
Father Ben Gets Ready for Mass by Katie Warner
Help Father Ben prepare for Mass! While geared toward a slightly younger audience, this interactive book. can help your communicant learn liturgical colors and more.
Mass Sets by Worthy of Agape
Does your child like to "play Mass"? Harness that enjoyment by gifting them a Mass set! A beautiful Mass kit can help the child learn the names of items used during Mass and help promote reverence. Click here to see the Mass Sets from Worthy of Agape (our faves).
The Mass Unit Study by Into the Deep
If you're looking for a more formal First Communion preparation resource, we've got you covered her and Into the Deep. We created an open-and-go, parent-led resource that walks your child through the Mass. With an emphasis on Salvation History and Eucharistic theology, this unit study seeks to facilitate an encounter with the Person of Jesus Christ, primarily in the Blessed Sacrament.
This unit study can be used in whole-family catechesis, during Morning Time, or family devotional time.
Conclusion
It is the primarily the task of parents to prepare their children for receiving the Eucharist. With picture books illustrating the Mass, a Mass kit perfect for practicing Communion, and a study guide on the Mass, your child will be a fountain of knowledge when it comes to their upcoming Sacrament.
What are your favorite resources for First Communion? Drop them in the comments below!