15 Catholic Chapter Books that will Captivate Your Budding Reader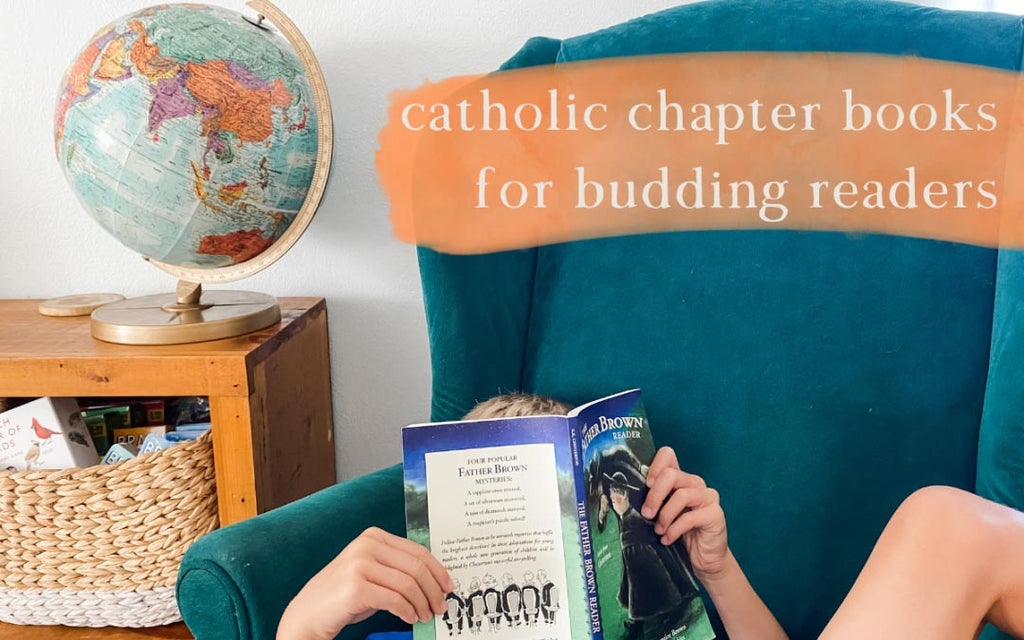 Finding suitable chapter books for budding readers can be hard, especially if you're trying to find a good religious read! This post will help your child on their journey as a reader. With bigger words, more detailed plot lines, and full chapters, these are perfect when your child has outgrown easy readers and is ready for the next level.
Chapter Books and Imagination 
A child's imagination is a wonderful thing, but it is something that needs to be captured, cultivated, and nurtured. As parents, we have the opportunity to find out what kind of books our child loves and enjoys. We want the book not only to engage our child but to encourage him to pick up books on his own. 
Reading and the Faith 
Living books are worthy; when you can weave them into your imagination through the Catholic Faith, that's even better. There are many Catholic chapter books out there to entrance your young reader.
Catholic chapter books give your child a fun and (semi) fictional read while depicting the Church and demonstrating her teachings. Children can begin learning about their Faith from their earliest days, and easy-read chapter books are a great option for those growing into their own reading lives!
Most of these are fiction and they range from featuring Saints to religious life and even some animal stories for all those animal-loving kiddos! Books are a fun and easy way to capture your child's imagination while teaching them about the Faith. 
15 Catholic Chapter Books for Budding Readers         
We've gathered 15 Catholic chapter books suitable for young readers. Some of them are parts of a series, so if your reader likes one particular book, make sure and see if there are other books to go along with it! 
Margret's First Holy Week by Jon M. Sweeney 
Margret's First Holy Week is part of a series featuring the Pope's pet cat, Margret. Young readers and animal lovers will adore this book. 
Sisters of the Last Straw: The Case of the Haunted Chapel by Karen Kelly Boyce
Also part of a series, this book details a group of quirky nuns and their many adventures. 
Prince Martin Wins His Sword by Brandon Hale 
Volume one of six, this book will captivate every boy's heart with tales of valor, sword-fighting, and bravery. 
The Father Brown Reader: Stories from Chesterton by Nancy Carpentier Brown (adapter)
In this lively adaptation of Chesterton's Father Brown, we watch Father Brown himself go about solving mysteries. These humorous stories will delight your child!  (Also one of two readers).
Lepanto's Lady by Laurie Schmitt
Based on a real-life event, Lepanto's Lady is told from Rosa's point of view during the Battle of Lepanto and her search for her father. 
Giorgio's Miracle by Laurie Schmitt 
Giorgio is a boy who lives in medieval Italy with his widower blacksmith father and pet donkey, Franca. Giorgio's Miracle details their adventures and the miracle their town and Giorgio's father so needs.
Champions of the Rosary by Laurie Schmitt
In Champions of the Rosary, we meet Philip, Elizabeth, and John, three siblings who attend catechism class led by Sister Adele Brise, a woman given a mission by our Blessed Mother. The children, along with their older brother, also witness the Peshtigo Fire of 1871.
Crusader King by Susan Peek
Considered a historical fiction book, Crusader King follows the life of Baldwin IV, the leper king who came to the throne unexpectedly at thirteen, led a kingdom and a crusade, and died at twenty-four.
Catholic Tales for Boys and Girls by Caryll Houselander 
Beautifully written are twelve different stories, ranging from pirates to princesses. Catholic Tales will enthrall boys and girls, igniting their imaginations! 
Clare's Costly Cookie by Julie Kelly 
Clare's Costly Cookie follows 9-year-old Clare, a headstrong, selfish girl. Watch as she grows spiritually and becomes a faithful child of God. 
Vision Chapter Books
All of the following books below are printed by the same company but written by different authors. These are a great easy read and a good Catholic go-to!
Saint Dominic and the Rosary by Catherine Beebe 
Catherine Beebe writes of the life of St. Dominic and his many adventures. 
Saint Philip of the Joyous Heart by Francis X. Connolly 
Saint Philip follows the life of Philip Neri, through his boyhood, later life and sainthood. 
Saint Therese and the Roses by Helen Walker Homan 
Beautifully written by Helen Walker Homan, we meet Therese, her four sisters, and parents Saints Zelie and Louis Martin. We watch the girls grow in faith and mourn together when their saintly mother passes. Following Therese, we watch her grow from a young child to a young woman in the convent. 
Kateri Tekakwitha: Mohawk Maiden by Evelyn M. Brown 
Evelyn Brown writes of the "Lily of the Mohawks," Kateri Tekakwitha and her bold escape from an anti-Christian tribe and her life as a single woman dedicated to God. 
Francis and Clare: Saints of Assisi by Helen Walker Homan 
Helen Walker Homan combines the lives of two Saints into one beautiful story, Saints Francis and Clare. 
Want More Catholic Chapter Books?
Take your time working through this list, maybe even discussing them with your budding reader along the way. Ask them what they thought of the books, what they learned, and how they felt about it! Whether it be a fictional Catholic novel or a historical fiction detailing the lives of the Saints, ask your kids their thoughts and get their brains brewing! 
How about you? What are your favorite Catholic chapter books for young readers? What are your kids' favorites? Share with us below!