Catholic Picture Books for July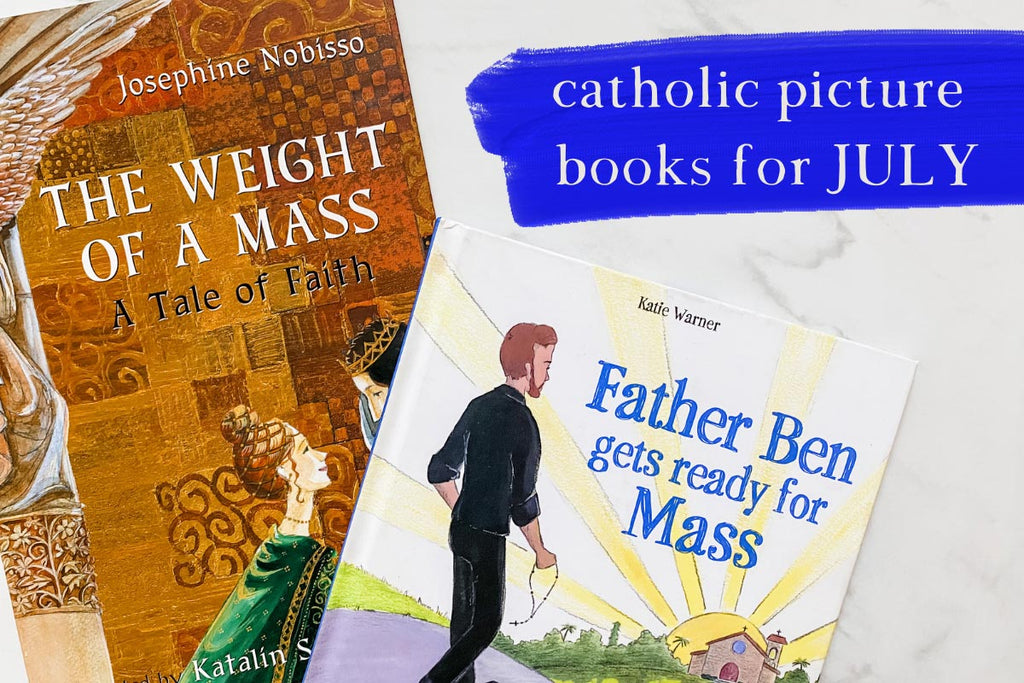 We are in the middle of summer, and it is getting hot. Much of our time is spent in the pool or sprinkler. It's time to head inside and curl up with some good Catholic picture books for July... next to the AC of course!
Catholic Picture Books for July
There are many wonderful feast days this month, a few of them being Saint Kateri Tekawitha, Saint Mary Magdalene, and Saints Joachim and Ann!
Check out the list below for picture books on these Saints and many others!
I Went to the Mass: What Did I See? by Katie Warner
With beautiful illustrations, I Went to Mass follows a young boy and his experiences during the Mass. This book also teaches parts of the Mass. It is written is a singsong-like rhythm that will stick in a child's mind, as well as your own!
The Weight of a Mass: A Tale of Faith by Josephine Nobisso
This story shows a hungry widow begging to a haughty baker for a slice of bread, saying that whatever she is given will be worth one Mass. The baker challenges this and we watch the story unfold, as well as the baker's change of heart.
Mary and Martha by Marty Rhodes Figley
Martha and Mary are sisters, but they could not be more different. Mary is quiet, contented, and enjoys writing and playing her harp. Martha is always cooking cleaning; she never sits down and rests. Watch the sisters and how they react when Jesus comes to visit them. We celebrate the feasts of Saints Martha, Mary, and Lazarus on July 29th.
Mary, the Mother of Jesus by Tomie dePaola
This book features fifteen different stories from Mary's childhood to her glorious crowning in Heaven. Written by beloved children's author Tomie dePaola.
Traditional Latin Mass: A Missal for Children by Kimbely Fries
Traditional Latin Mass Missal will help your child follow along with the Traditional Latin Mass and encourage them to be engaged in its beauty!
Kateri Tekakwitha: Model of Bravery by Barbara Yoffie
Part of the Saints and Me! series, Kateri Tekakwitha is beautifully illustrated and shows how Kateri bravely forged on as a Catholic Native American despite the dangers that lay in being so. Her feast day is July 14th.
Thomas the Apostle: Builder and Believer
Also part of the Saints and Me! series, this book follows "Doubting Thomas" and his journey to becoming a stronger believer and talented preacher. His feast day is July 3rd.
The Life of Saint Brigid: Abbess of Kildare 
by Jane G. Meyer 
Colorfully written and illustrated, The Life of Saint Brigid takes place after Saint Patrick's conversion in Ireland. Brigid was born rich and privileged but threw it all away for the Lord and became, a milkmaid, shepherdess, and then finally an abbess.
Father Ben Gets Ready for Mass 
by Katie Warner 
Follow Father Ben as he gets ready for Mass! This fun, interactive book will have your kiddo engaged and happy.
The Thornbush by Michael Laughlin
Watch as a tiny thornbush witnesses Jesus' crucifixion, Death, and Resurrection unfold. Our thornbush has an up-close experience with the Precious Blood of Jesus, making this story a great read for the month of the Precious Blood.
The Holy Twins: Benedict and Scholastica by Kathleen Norris 
Written by Kathleen Norris and illustrated by Tomie dePaola, The Holy Twins walks you through their childhood and adulthood. 
Christopher, the Holy Giant by Tomie dePaola 
In the land of Canaan, there lived a giant man who wished to serve. He desired to use his strength for good and traveled the world seeking the most powerful king. 
The Legend of Saint Christopher by Margaret Hodges 
This story tells of a strong man named Offero who searched in vain for the most powerful ruler on earth. 
The Life of Saint Benedict by John McKenzie 
Filled with stories of Saint Benedict and his sister Saint Scholastica, this children's book is based on the biography written by Pope Saint Gregory the Great. 
What are your favorite picture books for July? Drop them in the comments below!