Catholic Picture Books for September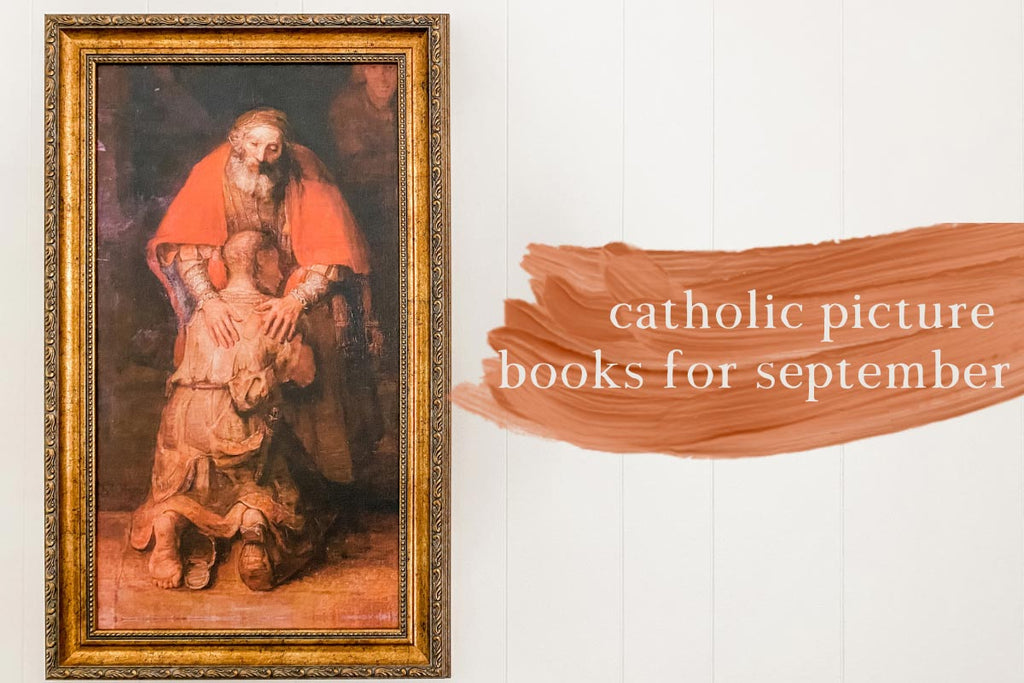 The month of September is a magical month. We move past the frantic beginning of the school year and the audible aaahhhh sets in once everything is just so. It's also a great month for fun and faithful read alouds! We have compiled a list of worthy Catholic picture books for September to help you celebrate feast days and soak in Truth and delight.
Catholic Picture Books for September
The month of September is filled with awesome feast days, including the feasts of Saint Padre Pio, Saint Vincent de Paul, the archangels, and Saint Jerome! September also includes the feasts of The Nativity of the Blessed Virgin Mary and Our Lady of Sorrows.
Mary by Brian Wildsmith
This book follows the life of Mary, from birth to Assumption. A beautiful option for either of the Marian feast days this month.
Padre Pio by Rev. Jude Winkler
Reverend Jude Winkler writes of the life of Padre Pio in this beautifully illustrated children's book.
Mary, the Mother of Jesus by Tomis dePaola
Mary features fifteen different stories about Our Lady's life, from her childhood to Crowning in Heaven. For the Nativity of the Blessed Virgin, read this book, bake a birthday cake, and sing Happy Birthday to Our Lady!
Saint Vincent de Paul: Servant of Charity by Sr. Catherine Ethievant
This book follows Saint Vincent's life from birth to death, complete with beautiful watercolored illustrations.
Michael the Archangel: Protecter of God's People by Barbara Yoffie
Patron of police officers, Saint Michael can inspire us all as we watch him valiantly defend the faith in this colorful children's book.
Take it to the Queen by Josephine Nobisso
Take it to the Queen depicts an allegorical representation of Mary. No matter how big or small a problem is, we can always take it to our Queen!
Our Lady's Picture Book by Anthony DeStefano
A sequel to the book Our Lady's Wardrobe, this book walks us through and explains the different titles of the Blessed Virgin.
Becket Wants to be a Priest by Matt and Stephanie Regitz
Becket is your average boy: he goes to school, plays with friends. He also wants to be a priest.
Saints: Lives and Illuminations by Ruth Sanderson
Written by Ruth Sanderson, Saints tells the tale of beloved Catholic Saints, including several that we celebrate this month!
Parable of the Vineyard by Helen Caswell
As the autumn harvests begin, contemplate this parable told by Christ.
Hildegard's Gift by Megan Hoyt 
Hildegard received a gift from God, but it wasn't the tied-with-a-bow type. But once she figured out how to understand her gift, she was filled with joy and love for the Lord. 
The Secret World of Hildegard by Jonah Winter 
Saint Hildegard was a gifted woman. She composed hymns, wrote books, and painted pictures all through the Dark Ages. 
St. Jerome and the Lion by Margaret Hodges 
Written by Margaret Hodges, this book tells the tale of Jerome sheltering a lion in a monastery. 
Peter Claver, Patron Saint of Slaves by Julia Durango 
Peter was a Spanish missionary who came to the New World. Shocked by the slave trade, he dedicated 40 years to caring for the sick and poor until he himself fell ill with the plague and died. 
The Little Friar Who Flew Patricia Lee Gauch 
Saint Joseph of Cupertino was a 17th-century friar who often levitated. Illustrated by Tomie dePaola, this book is a short but sweet biography children will love. 
What are your favorite Catholic Picture Books for September? Drop them in the comments below!